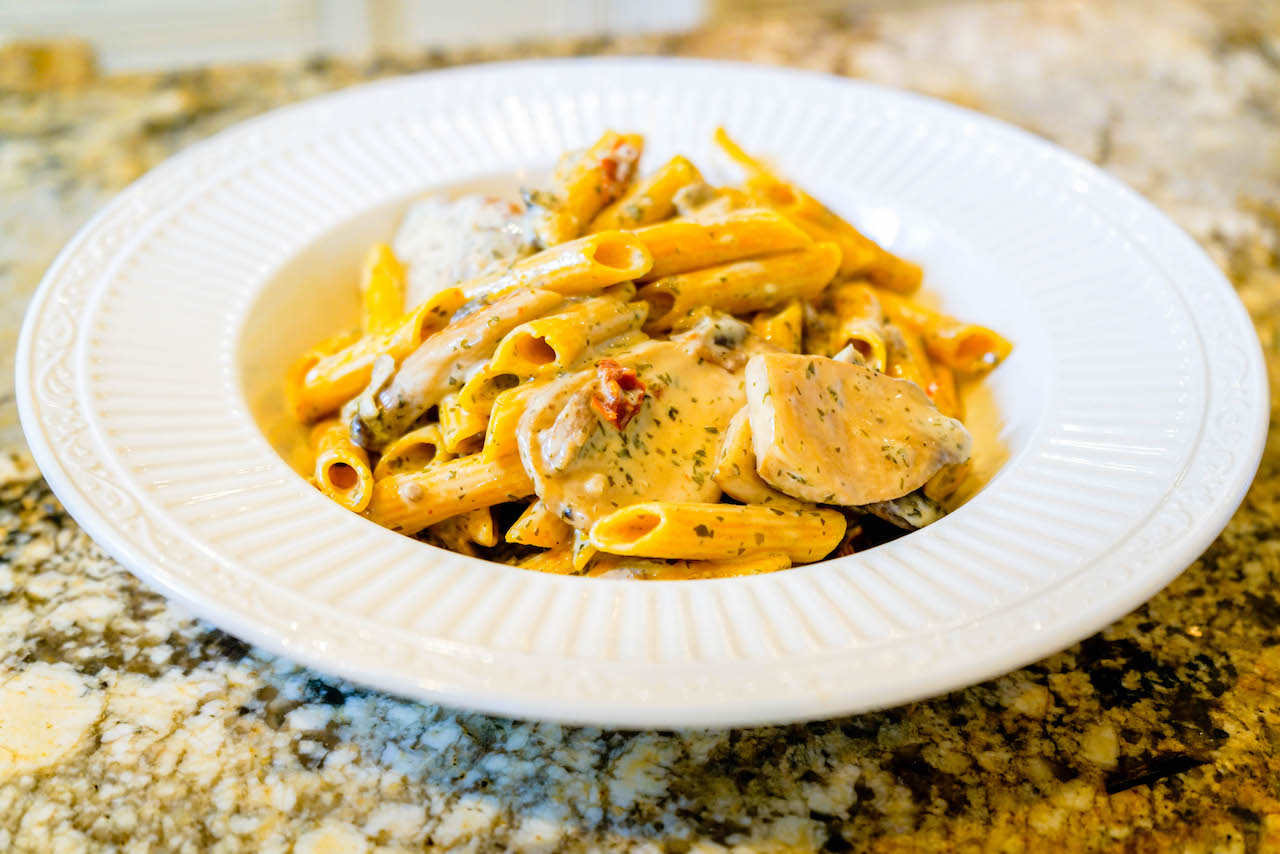 Vegan Creamy Porcini Mushroom Pasta
This recipe can be used with any SOLENZI Pasta, but we particularly like it with our Turmeric, Black Pepper & Corn Penne. The SOLENZI Organic Boscaiola Porcini Mushroom mix adds an incredibly aromatic woodsy flavour to this pasta dish. When combined with the coconut milk, you get an intense, nutty and delicious alfredo-like cream sauce with the aroma of porcini mushrooms filling your kitchen.  The vitamins & minerals you get from the naturally sun-dried vegetables in the mix and the anti-inflammatory benefits of the turmeric in the pasta will nourish your body and your taste-buds.  
| | |
| --- | --- |
| SOLENZI Chef's Ingredients- Organic Boscaiola Mix | 1 x 40g bag |
| SOLENZI Organic Pasta | 65g per person |
| Organic Coconut Milk | I can 400ml |
| King Oyster Mushrooms thinly sliced | 1 cup |
Skill Level:        Easy
Total Time:     30 minutes
Put a pot of water on the stove, add salt to taste, and bring to a boil to cook the pasta.
Thinly slice the king oyster mushrooms and saute them in a frying pan with a tablespoon of olive oil and salt to taste over medium-high heat. Set aside.
In a saucepan add the can of coconut milk and half a bag of the SOLENZI Organic Boscaiola mix.
Heat on the stove on medium heat, bring to a boil then turn down to a simmer for 10 minutes.  This will thicken the coconut milk to create your sauce. Add the king oyster mushrooms you set aside and keep warm.

Cook the SOLENZI Organic Turmeric, Black Pepper and Corn Pasta according to the package instructions (6-8 minutes) or to your taste, reserving about ½ cup of the pasta water in a small bowl before you drain it.
Drain the pasta and immediately add it to the saucepan with the creamy coconut mushroom sauce and toss all together mixing well over low heat for 1 minute. Add some of the reserved pasta water so that the ingredients glide together and are glistening and not sticky.

Divide into individual plates and top with chopped parsley.

Buon Appetite, now you may eat!