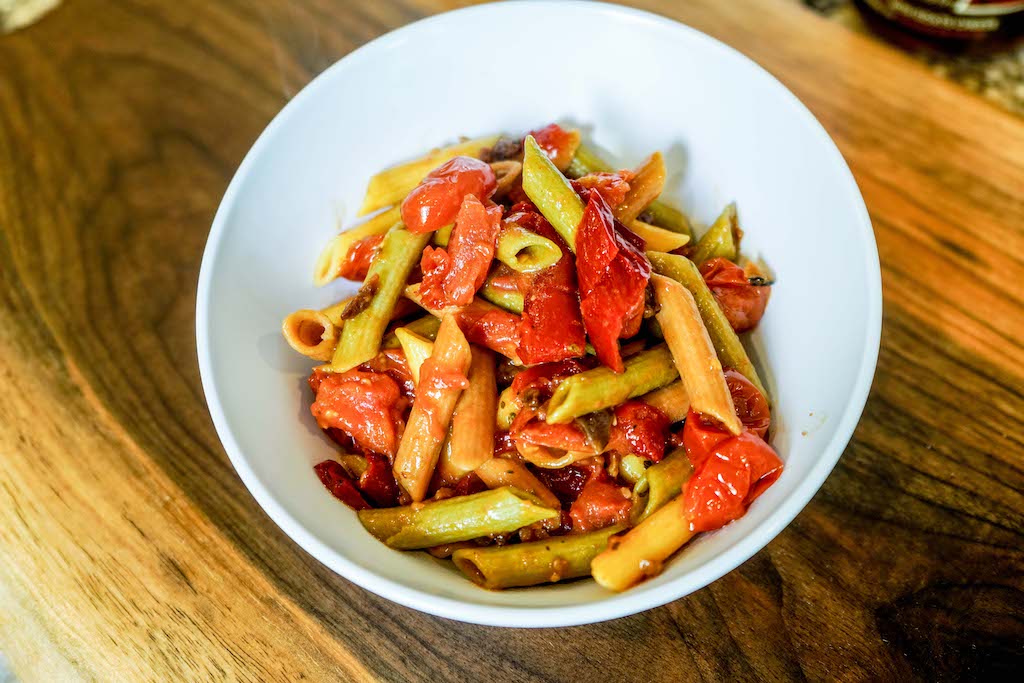 Peppers & Penne Arrabbiata Pasta
For those who like a pasta with a punch, this is perfect for you!  The combination of the sweet red peppers naturally dried in the sun, with the spicy chili and vegetable mix, brings you a depth of flavour and taste that will keep you wanting more.  This is a quick and easy recipe that you can have ready to eat in a mere 30 minutes. The recipe as written is vegan, however, for those carnivores out there, adding sautéed spicy sausage or chorizo, as well as topping the pasta with crumbled goats cheese at the end, will add a gourmet element that is sure to impress even the most discerning palate. 
| | |
| --- | --- |
| SOLENZI Chef's Ingredients - Organic Arrabbiata Vegetables & Spice Mix | 1 x 40g bag |
| SOLENZI Organic Beetroot, Spinach & Corn Penne | 65g per person |
| SOLENZI Dolcissimi Sweetest Sun-Dried Peppers | 1 x 190g jar |
| Cherry Tomato's | 2 cups |
| Organic Extra Virgin Olive Oil | 4 Tablespoons |
Skill Level:        Easy
Total Time:     30 -  45 minutes 
Put a pot of water on the stove, add salt to taste, and bring to a boil to cook the pasta. If making with sausage or chorizo, cut this into small bite size pieces and cook thoroughly - set aside until the end to combine with the pasta.
In a saucepan on the stove, add olive oil and cherry tomatoes cut in half.
Sauté on medium heat for 5 minutes so they begin to soften and burst. Add 2 tablespoons of the SOLENZI Arrabbiata mix and about ¼ cups of water, and simmer for 10 minutes, adding more water if it is drying out too much. 
(Optional) If you are adding the cooked sausages or chorizo, add that to the pan now.
Cook the SOLENZI penne according to the package instructions (6-8 minutes) or to your taste, reserving about ½ cup of the pasta water in a small bowl before you drain it.
Drain the pasta and immediately add it to the saucepan with the cherry tomatoes and arrabbiata mix.
Add about 2 tablespoons of the SOLENZI Dolcissimi sun-dried peppers, and toss all together mixing well over low heat for 1 minute, adding more olive oil and/or some of the reserved pasta water so that the ingredients slide together and are glistening and not sticky.

Buon Appetite, now you may eat!