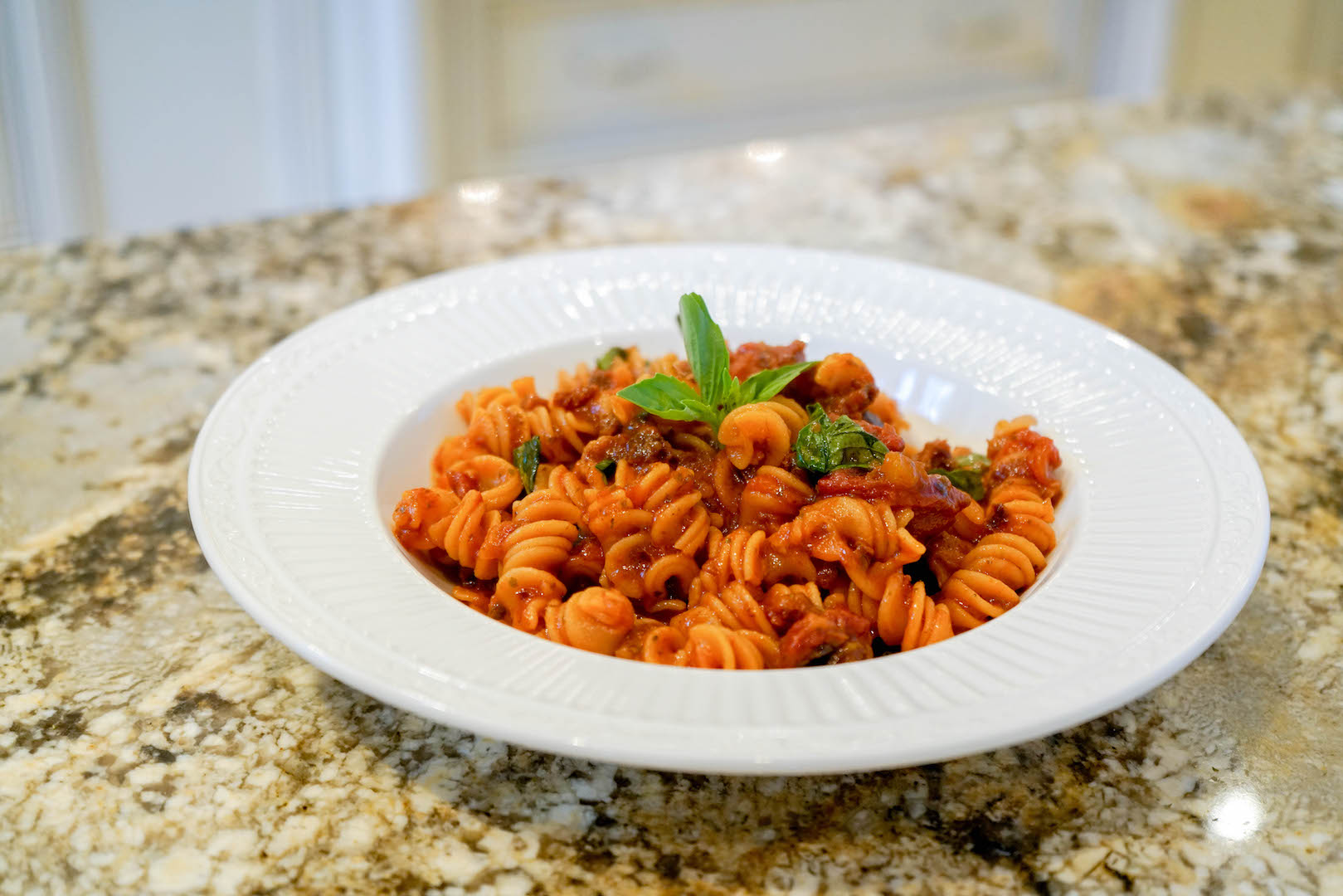 For those looking for a rich tomato based pasta dish full of flavour and packed with plant-based protein, look no further than our Luscious Lentil recipe. Our Red Lentil Fusilli has over 17g of protein and 5g of fibre in every portion. The SOLENZI Organic Oven Roasted tomatoes are vine ripened, picked at their prime, and then oven roasted, which adds a depth of sweetness that cannot be beat. The SOLENZI Ortolana Sun-dried vegetables & spice mix quickly adds all the flavours you will need for this recipe, without any chopping or prepping. All can be achieved in 30 minutes, so even after a busy day, you can eat delicious & nutritious with no compromise.
| | |
| --- | --- |
| SOLENZI Organic Lentil Fusilli | 65g per person |
| SOLENZI Chef's Ingredients- Organic Ortolana Vegetables & Spice Mix | 1 x 40g bag |
| SOLENZI Organic Oven Roasted Tomatoes | 1 x 180g jar |
| Tomato & Basil Sauce of your choice, or home-made | 1 to 2 cups |
| Organic Extra Virgin Olive Oil | 1 Tablespoon |
Total Time:     30 minutes 
Put a pot of water on the stove, add salt to taste, and bring to a boil to cook the pasta.
In a saucepan on the stove, add olive oil and about ½ jar of the Oven roasted tomatoes, drained. If cooking for 4 people add the whole jar of Oven roasted tomatoes, drained. 
Sauté on medium heat for 5 minutes until they begin to soften and add 2 tablespoons of the SOLENZI Ortolana mix and your tomato sauce and simmer for 10 minutes.

Cook the SOLENZI Lentil Fusilli according to the package instructions. Reserve about ½ cup of the pasta water in a small bowl before you drain it.
Drain the pasta and immediately add it to the saucepan with your sauce. Gently toss it together over low heat for one minute, coating the pasta with the sauce, and adding some of the reserved pasta water so that the ingredients glide together and are glistening and not sticky.

Divide into individual plates and top with cheese if desired.

Buon Appetite, now you may eat!